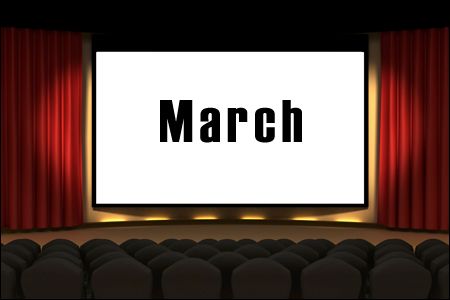 While February is a so-so month for movies except for the huge Valentine's week, March is a huge month from beginning to the end, a lot of releases and some hugely hyped one at that. A great month for the fans but maybe not so for some movies as there's a lot of competitions here.
March 1, 1st week of March
Already in theaters are Voice of The Night and The Purging. Voice of The Night threw a lot of ads around the internet and off the internet so you probably see their ads on TV or radio or whatever entertainment form that you like. If you still don't know what's it about, then I will briefly explain it here. It is based on novel of the same name, involving two college freshmen of polar opposite, one nerdy; one sport star. Put a dark secret in the middle of the two freshmen and the thriller is on.
That's about it for that one as I am trying to help The Purging more here to equal the playing field a little bit. The Purging is bringing zombies into the space, or a space station at least, to give those Star Wars nerds out there a taste of the zombie flesh — you won't taste zombie flesh literally, so don't freak out. Two soldiers played by Vin Diesel and Colin Farrell are the main protagonists of this film, as they tried their best to survive the dire situation they are in. The film also attempts to be realistic(on a sci-fi level) so don't expect godmode in this one.
March 8, 2nd week of March
A slower week of March, we have Drugged 4 which concludes the Drugged series. This time, we are with Eric Hexler(each Drugged focuses on one main character) and his family problem. This time, the conflict is on a larger scale as the people are going up against the Harson, the company of the bad drugs instead of just solving their own personal problems so expect some epic things out of this one.
March 15, 3rd week of March
The Slave is the first film of Dark Horse Studios in 2013 and there's no doubt from the title that the audience will be into some dark, depressing journey as expected from any Dark Horse release. In this film, we will be dwelling into the grim reality of the mean streets of Victorian London, a place full of vile, vicious and villainous people and events that unfold the characters to their height of passion, depths of obsession and promise of revenge.
If you don't want to be depressing, then you will be glad to take the other release of the week, Chains of Youth. While I am not sure if this is a happy film or on the not-very-happy area, I am fairly sure that this will be brighter than The Slave, tone-wise. The story revolves around a college freshman and aspiring poet who struggles to find direction in his life, just like a lot of college freshmen out there, and his affair with a married woman. The production company even said that this is a perfect film for the testosterone driven demographic.
March 22, 4th week of March
Lollipop Chainsaw 2 focuses on Stevie Stewart(Deborah Ann Woll). Going out of the video game that the series is based on and with the main character, Juliet Starling not showing much here, the story will revolves around the Stewart sisters – there's three of them – as they are trying to defend the town from endless waves of zombies. There's also a new villain played by Kat Dennings so even if you have played the game, this is still a whole new experience.
March 29, 5th week of March
For the final week of the month, we have The Last Musketeer and Charnel House, both I don't really have much informations on. The little info I have is that The Last Musketeer will be an action-adventure film by Blacksmith Pictures, which is definitely bringing in some hype thanks to the successful release of Lockdown in February.
Charnel House is a horror film from the current HollywoodTG horror powerhouse, Aurora Films. The release date is announced quite recently but it's from Aurora Films and horror its signature genre, people do expect good things from this one. A basic sypnosis says that this is about a detective investigating a massacre inside a house, only to discover something much more evil and sinister behind the doors.
We will also be tracking the up-and-down of the talent's status in their venture of HollywoodTG every month, and here's the list of last month:
On The Raise
Elle Fanning: 4.607 -> 5.060(The Hair People)
Jessica Amlee: 3.190 -> 4.015(The Hair People)
Emily Mortimer: 3.428 -> 3.828(The Hair People)
Anna Faris: 3.477 -> 3.875(The Hair People)
Miranda July: 1.100 -> 2.079(The Hair People)
Deborah Ann Woll: 4.382 -> 7.189(I Know What You Did Last Summer 2, Grand Theft Dog 2)
Blake Lively: 5.411 -> 6.278(I Know What You Did Last Summer 2)
Lizzy Caplan: 0.618 -> 1.291(I Know What You Did Last Summer 2)
Jennifer Garner: 9.877 -> 10.087(I Know What You Did Last Summer 2)
Patrick Lussier: 6.109 -> 6.838(I Know What You Did Last Summer 2)
Steven Haworth: 0.500 -> 0.565(Ring of Honor: Forever Third?)
Kevin Foote: 0.500 -> 0.565(Ring of Honor: Forever Third?)
Jim Cornette: 1.030 -> 1.056(Ring of Honor: Forever Third?)
Albert Maysles: 1.068 -> 1.089(Ring of Honor: Forever Third?)
Yimou Zhang: 2.000 -> 2.741(Rising Sun)
Sean Bean: 4.449 -> 4.822(Rising Sun)
Jet Li: 5.394 -> 5.895(Rising Sun)
Daniel Craig: 6.391 -> 6.592(Rising Sun)
Hiroyuki Sanada: 0.500 -> 0.995(Rising Sun)
Famke Janssen: 3.596 -> 4.226(The Widow)
Kyra Sedgwick: 1.500 -> 2.520(The Widow)
Holly Gibbs: 0.573 -> 1.129(The Widow)
Holly Marie Combs: 1.323 -> 1.842(The Widow)
William Friedkin: 7.225 -> 7.311(The Widow)
Jon Abrahams: 0.500 -> 0.951(Cars 3)
Richard Moll: 1.000 -> 1.578(Cars 3)
Bonnie Hunt: 0.500 -> 1.402(Cars 3)
John Lasseter: 1.000 -> 1.802(Cars 3)
Parker Posey: 10.987 -> 11.908(Grand Theft Dog 2)
Alison Brie: 2.173 -> 3.349(Grand Theft Dog 2)
Cate Blanchett: 11.282 -> 12.002(Grand Theft Dog 2)
Brett Ratner: 7.018 -> 8.534(Grand Theft Dog 2)
Falling Down
Owen Wilson: 9.002 -> 8.603(Cars 3)